Paoay Sand Dunes
ILOCOS: PAOAY SAND DUNES, 4×4 RIDE, SANDBOARDING
Most hotels in Laoag offers a tour package, but I found it expensive. Tricycle is the most common mode of transportation in Laoag and most of them offer a city tour, but the first few driver's we've talked showed signs that they are not tourist-friendly. Fortunately, I remembered the Tour Guide which another Happy Tripper (Emmy Iman) recommended. So I called him and we talked. Tricycle is a lot cheaper when used for a tour. For the City Tour, you can just get it for PhP 700. However, I wanted to sleep in Vigan and I wanted a vehicle with me. Moreover, I realized that I and my friends were big in size and we cannot fit in tricycle so we opted for a van service.
For city tour including the Vigan overnight (2 days), our tour guide charged us PHP 4,000.00. The 4,000 includes the driver and a separate tour guide. Of course,  you have to include them in your budget when eating. Well its quite high for a single traveler but there were three of us to divide the cost so it's still affordable. The tour would come out cheap if there will be at least 6 of you to divide the cost. The van can accommodate up to 10-12, but 9 nine would be a perfect number so that it will not be too crowded.
Paoay Sand Dunes
Meet our Tour guide
Our tour became more meaningful and fun because of our tour guide, Jeremy. I found Jeremy to be very honest and despite his being a tricycle driver, he was very professional to deal with. He also served as our photographer—and he is a very good photographer. He knew some tricks when taking photos and he would even instruct us to do some jump shots once in a while. Jeremy also knew the place very well and its history (please leave us a message should you want his number).
Having a tour guide and a service vehicle is highly recommended as opposed to commuting from one place to another. With a vehicle, you can stop any time and you will be in control of your time.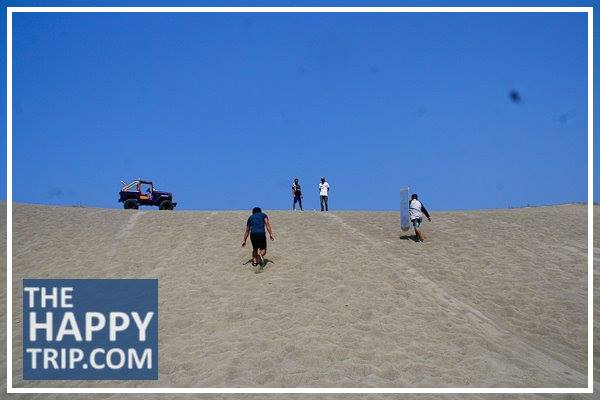 Paoay Sand Dunes
Paoay Sand Dunes
The first destination we went to that day was Paoay sand Dunes. There were two sand dunes in Paoay but this one is highly recommended.
Paoay Sand Dunes is an  88-hectare spread of sand and wild landscape, is a favorite not just of tourists, but of budding sand boarders and surfers.   Eighty-eight hectares of pure sand, the sand dunes are adjacent to Suba Beach, where fishermen harvest daily fresh seafood from the deep blue waters. Its is said that  Paoay Sand Dunes is a protected area and classified as a non-disposable public land.
When we reached the sand dunes we saw several  4X4 vehicles waiting to be rented at PhP 2,600/hour including the sandboarding. Four people can ride in the car but I suggest that you have to limit it to three only. Our tour guide Jeremy took the front seat and he would go down once in a while to take our pictures. Two other guides were with us at the back. We have to stand to enjoy the view.
Paoay Sand Dunes
The 7km stretch of sand offers tons of attractions. The best part of the thrill ride is a series of ridges we went through and it's all breathtaking.    Am sure any passenger can scream each time the vehicle would go down a  dissected plateau. After a few minutes of the thrill ride, we stopped to try the sandboarding. There were two allotted areas for sandboarding, a sport using a skimboard to ride down a sandy hill. One sandboarding area is for beginners, with the ride starting at a 10ft point, and the other for the most experienced rider, with the jump-off point at about 20 feet.  I was scared, but I have to try it just to experience. Sandboarding is an exercise in balance so it cannot be avoided for one to fell, but its all part of the fun. That was almost noon and the heat was really harsh, so don't forget your sunblock and water when you go.
After a while, we proceeded to Suba Beach. The view was simply amazing.
The sandboarding was one of the best experiences I ever had in Paoay, so don't miss this when visiting Laoag.
Paoay Sand Dunes
Read the rest of our trip by clicking the links below: