Things to do in Manila | Tourist Spots
There was this group of farmers severely hit by drought. Their animals and crops were dying. Each night they gather to worship and pray for the rain to come.
One evening, a little girl attended the gathering. Everyone noticed her because she was carrying a colorful and big umbrella. One woman asked her: "Why did you bring that umbrella, didn't you see, its drought? What's that umbrella for? The girl replied: "Are we not praying for the rain?"
We all pray for this pandemic to end soon. Yet, at times we sound very pessimistic with our forecast. I don't want to argue if you talk about science, but I pray that one day, I'll wake up with no more pandemic, and everything is back to normal. This is also one of the reasons why I still keep on doing some travel guides so that people can use them when they are allowed to travel again. As the slogan of Cebu Pacific says: Every Juan Will Fly Again
So what's the place that I should visit first when everything is back to normal? I will visit Manila. Apart from leisure, I have so much to arrange and do in Manila related to our small business. I have so many friends in Manila that I want to visit and some of my foreign friends would want to visit our country the moment they can.
 Things to Do and Tourist Spots in the Nation's Capital: Manila
If you are looking for a lovely and underrated place to go through, Manila is here to challenge you. There is a fortress, standing still from colonial attacks, beautiful Baroque churches urging you to go and the vast, packed market, with the most significant malls that will make you feel like you are not standing between the streets of Manila. So, either you are a local or foreign tourist, exploring the nation's capital will bring you tons of treasured memories.
Things To Do in Manila | Tourist Spots
  Things to do in Manila | Tourist Spots | Photo from the Fb page of Manila Ocean Park
Attractions for Kids
Are you bringing kids during your tour? Well, that's not a problem. There are many places to go with them like the Kidzania, Manila Ocean Park, Museo Pambata, The City Zoo, and lastly, is the famous Star City. You will not only enjoy these places, but they also provide learnings for the tourists and visitors.
Ayala Museum
Showing off the Philippine art, ethnology and archeology are prominent here inside Ayala Museum— an air-conditioned former stock exchange building. Gallery walk inside this museum will let you see the historical differences of the materials used from the past. Works of Fernando Zobel and Juan Luna are also displayed inside this museum.
One of the exhibits in Bahay Tsinoy | Things to do in Manila | Tourist Spots |   Photo by Ramon FVelasquez  
Bahay Tsinoy
Since the Chinese lived with the Filipinos, they created their history, and it was printed here in Bahay Tsinoy. Every detail of their experiences is written inside this museum, including their prints, ceramics, and other photographs.
Kalesa Ride
Take a chance to ride a Calesa when in Manila. This two-wheeled horse-drawn carriage could be especially if it is your first time. However, you need to agree first on the price before hopping in to avoid some problems.
Chinatown | Things to do in Manila | Tourist Spots
Chinatown
This place does not seem like a tourist spot because of the noise and the traffic, but it shows how the Chinese managed to create their legacy within Manila. Temples like Kuang Kong and Seng Guan Buddhist Temple and the herbal stores should be visited by the tourists.
Chinese Cemetery
This cemetery is intended for Chinese citizens who were not allowed to be buried in Catholic cemeteries. The temple of Chong Hock Tong is the oldest in Manila, and it resembles the temple in Fujian, China.
For Santiago | Things to do in Manila | Tourist Spots
Fort Santiago
Fort Santiago was built in 1571 and served as a significant contribution from the Second World War, but a lot of this was restored. Philippine National Hero, Jose Rizal, was incarcerated here before the Spaniards executed him. They created a shrine that replicates his ancestral home.
Divisoria Market
Are you looking for affordable products? This is the best place for you. Clothing, foods, accessories, and handicrafts are all available. Bargain with the vendors is typical in the everyday life of this market.
Greenbelt | Things to do in Manila | Tourist Spots
Greenbelt Mall
Greenbelt Mall is located below Makati's skyscrapers, and it is the home of the shopping industry. Shop here if you're interested in Calvin Klein, Gucci, and Prada. If you have time to chill, restaurants, bars, and coffee shops are also available in this location.
Greenbelt Chapel
Surrounded by malls and buildings of apartments, you will find the Greenbelt Chapel standing. This chapel has been here since the 1980s, and they are usually celebrating weddings and other religious ceremonies. If you see it, it's a pavilion with a circular design and open arches, and stained glass in the center of the ceiling.
Intramuros | Things to do in Manila | Tourist Spots
Intramuros
This part of the city is the oldest part in which you can feel the ambiance of living in a European town, especially if you put yourself in a walk or riding a calesa. Do not open your eyes only to the churches, courtyard and the colonial architecture, the statue of King Carlos IV will welcome the visitors on Plaza de Roma and the Puerta de Isabel II gate, with the figure of the Queen.
Jeepney Rides
Jeepneys became part of Manila's identity, and these vehicles are adapted from American jeeps, painted with vibrant colors. These are also the cheapest vehicle to roam around the city, but you need to endure the overloaded drive.
 Things to do in Manila | Tourist Spots
Santa Cruz Church
Officially known as the Our Lady of the Pillar Parish Church, a baroque church building established in the 17th Century. The church went through a series of reconstruction and repairs.
Malacañang Palace
President Duterte formerly refused to move in the Palace because of ghosts. If you're brave enough, then plan for a tour. Philippine Presidents are required to move here after it was built for Don Luis Rocha.
Binondo Food Trip | Things to do in Manila | Tourist Spots
Binondo Food Trip
Behind the old buildings of Binondo lies old restaurants and small eateries offering great Chinese cuisines. When visiting the place try to just sample foods so that you will have the chance to visit more places to eat around the area.
Local Specialties
You will not get tired of tasting Manila's delicacies for the taste is oozing to your taste buds. There's this halo-halo, a mixture of fruits and evaporated milk. The roast pork, chicharon, and crispy pork which are some of the best in the world and typical snacks here in the Philippines may also be tried here. Lastly, the balut, at first you'll find it disgusting, but when you tasted it, surely you will order a lot of it.
Binondo Church | Things to do in Manila | Tourist Spots
Binondo Church
The Binondo Church is located right in front of Plaza San Lorenzo Ruiz in Binondo, Metro Manila. It was founded in 1596 by the Dominican priests to serve the Chinese Christan converts in the area. The original building was destroyed in 1762 and was severely damaged during World War II.
Manila Baywalk
Watching the sun goes down in Manila Baywalk is unique as you see the water gleam from the far side of the bay while live street performers are ruling the night with their music. Across the long road are the giant skyscrapers and as you go down to the Yacht Club, you will find cafés and restaurants good for chilling.
Manila Cathedral | Things to do in Manila | Tourist Spots
Manila Cathedral
After founded in 1571, it survived the disasters that came like fire and the war. It was undergone restoration, and the monument in Plaza de Roma was rebuilt for 8th time. Pope Francis held a mass here in 2015, and its internal design like the marble floor and glass windows were constructed by Galo Ocampo.
Casa Manila
In San Luis, Intramuros, this house museum depicts the household of Filipinos during the Spanish period. This house is not simple for it has a passageway onto the courtyard with trees and a fountain. The interior of the house presents artifacts that you might want to know about their history.
National Museum | Things to do in Manila | Tourist Spots
National Museum of Fine Arts
This museum is composed of prominent artists' works from the 19th and 20th centuries. The well-known painting laying inside this museum is the Spoliarium by Juan Luna.
Paco Park
With the ambiance of solemnity, Paco Park was a cemetery around the 19th century with its circular form. Still, sooner, the remains of the people lying beneath the ground were delivered back to their families. Don't be blind, despite it being a cemetery, the middle part of the park is a garden with lawns, trees, and flowerbeds. You will also find here the chapel of St. Panchratius.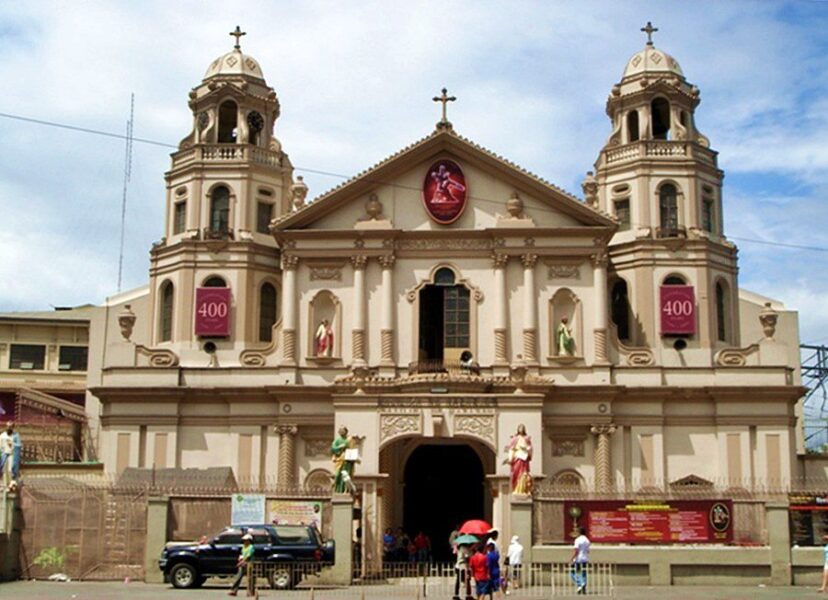 Quiapo Church | Things to do in Manila | Tourist Spots
Quiapo Church
Just like the other old churches, this church was challenged by multiple earthquakes and war. Despite facing hardships, its Baroque facade remained with its Corinthian columns. People are visiting this church because of their faith in Black Nazarene.
Videoke
Filipinos love singing, and Manila is a music place for all times. Videoke and Karaoke bars can be found all across the surrounding area so if you are planning to hang out, look for videoke or karaoke bars.
Rizal Park | Things to do in Manila | Tourist Spots
Rizal Park
This park is integral to Philippine history for they executed Dr. Jose Rizal here in the former called Bagumbayan. His remains are guarded day and night by the Marine Corps. Additionally, this park is also a rare space green island among the obstructed streets of the city.
SM Megamall
SM Megamall is considered the 2nd largest mall in the country. Part of this mall is the Megatrade Hall wherein they are conducting multiple events and conventions.
San Agustin Church | Things to do in Manila | Tourist Spots
San Agustin Church
This structure is considered as a UNESCO site and also the oldest church in the country. The architectural design of this church delineates Baroque style, and the interior is a must-see for its aesthetic value and moldings.
San Agustin Museum
The monastery of the church had been reconstructed and turned to a museum after it was wrecked during World War II. This museum holds the faith and its historical value to the Filipinos. There are paintings, statues, crucifixes, and other antique equipment for exhibits.
Things to do in Manila | Tourist Spots
Pasay Seafood Market
If you are looking for a market to buy seafood for your cravings, this is the best to visit. It is located near Mall of Asia, and most of the restaurants are buying fresh seafood from here.
Metro Manila, as the center of the country, serves as the main entry point to all other areas of the country. Hence, if you plan to visit somewhere else, I invite you to take a closer look at what this busy city has to offer. I am sure that you will enjoy a thing or two (or even everything), as you journey in Manila.
Things to do in Manila | Tourist Spots
How to Get to Manila
The Ninoy Aquino International Airport (NAIA), also known as Manila International Airport, is the main gateway for tourists visiting the Philippines. It serves as the hub for the country's airlines like Cebu Pacific Air.
While people in the Visayan and Mindanao Region can travel to Manila via Ferry and Bus, air travel is still the most convenient considering the travel time and the cost.
For people in my hometown Bacolod City, the airline that offers the best price for Manila is Cebu Pacific.
While commercial flights are not yet available at the moment, you can check the website of CebPac or some get some updates from their FB page: Cebu Pacific Air
Related Posts
THINGS TO DO IN MANILA | TOURIST SPOTS