Top Festivals in Negros Occidental
7 TOP FESTIVALS IN NEGROS OCCIDENTAL
Masskara: 7 Top Festivals in Negros Occidental
Festivals: Why is it Important for Filipinos?
If there is one thing that makes or country well-known in the entire world, that is our ability to come up with unique celebrations and festivities. Such a unique gathering enables us to create meaning out of our ordinary daily lives and generate new ways on how we could celebrate varied events. Festivals. One word, yet hundreds of examples. As Filipinos, we adhere to the belief that celebrating fiestas is something that we have been doing since the beginning of time. In a simpler term, we join, we get involved, we participate.
The beginning of the fiesta can be rooted in a far way older than Spanish colonization of our country. It started with how we celebrate Thanksgiving to different spirits which we believed to be in-charged of our day to day lucks and blessings. We rejoice in the air, wind, water, and all another sort of creation. Later on, when the Spanish introduced Catholicism, that's the time when we started making the formalized form of these festivals. We rooted it now from varied Saints and celebrations.
We made it as part of our culture and tradition. We associate ourselves, our places, and our provinces with a unique celebration. Either it is for a national, religious, and seasonal reason, we do it wholeheartedly. We make it a point that we give our best shot in it no matter what it takes. We want to express our gratitude through fiestas and also, we would like others to see how much we are willing to go for a celebration like this.
Often, tourists would visit the country to witness these fiestas, and we couldn't be any prouder since we know, and we are aware that they would also like to take part in the celebration. This now has become a tradition rooted in beliefs and values. In doing this, we do not merely make merrymaking. We also promote local and national consciousness as well as camaraderie in our place. It has been a tradition that we pass on from one generation to another, continuing to progress and flourish over the past years and to the years to come.
Festivals are not only limited to the provincial celebration, but it also encompasses the local town fiesta celebration. Such festivity is also a manifestation of how much we value our visitors since we prepare things for them. We cook a sumptuous meal; we organize town activities, we prepare everything so that they could see how beautiful our hometown is. Indeed, hospitality is also being enhanced and developed in celebrating these different festivities.
Examples of famous events like these include the Feast of the Black Nazarene of Quiapo, Dinagyang Festivity in Iloilo, and Sinulog Festival of Cebu. These public celebrations have been a trademark of being a Filipino, and thus, it is something that we should be proud of. Regardless of the province, we came from; we are united with a vision that when it comes to our tradition and culture, we are all willing to extend a walk of an extra mile to make it a better one.
Must Read: Negros Occidental Calendar of Festivals
Sinulog sa Kabankalan: 7 Top Festivals in Negros Occidental
Top Festivals in Negros Occidental
I asked quite a good number of bloggers for their opinions as to what is the Most Popular Fiesta in Negros Occidental. The following festivals emerge as the top choice according to their perceptions.
Disclaimer: This post does not represent the views and opinions of the majority of the people of Negros Occidental or any Tourism Office/Institution.
1. Panaad sa Negros Festival
The gathering of all festivals in Negros Occidental. If you don't have the opportunity to witness all the festivals for each municipality and cities in the province, then this event is the perfect chance for you. One of the major events of this fiesta is the Festival Dance Competition participated by all cities and municipalities showcasing their own local festivity. Click here to know more about the Panaad celebration.
Must Read
Masskara: 7 Top Festivals in Negros Occidental
2. Masskara Festival, Bacolod City
The world-renowned, the Masskara has been attracting visitors around the globe to witness one of the most colorful and vibrant fiestas in the Philippines. Street dancers in this festival are garbed with colorful and flamboyant costumes together with their beautifully crafted smiling masks with intricate and huge headdresses.
Must read
Sinulog sa Kabankalan: 7 Top Festivals in Negros Occidental
3. Sinulog sa Kabankalan, Kabankalan City
A counterpart of the Ati-atihan, Sinulog sa Kabankalan started in 1976 which was even earlier than the bigger Sinulog celebration in Cebu City which started in 1980. Be ready to get smudged with soot coming from charcoal mixed with oil.
Must Read: Sinulog Schedule of Activities
Dinagsa: 7 Top Festivals in Negros Occidental
4. Dinagsa, Cadiz
Similar to Sinulog sa Kabankalan, Dinagsa  in Cadiz also features Ati Tribes for the main event, the Street, and Arena Dance Competition. Amazingly if merrymakers in Kabankalan is using soot to smudge spectators, party people in Dinagsa is using water-based paint mixed with water to smear onlookers during the fiesta. This part of the festival is really anticipated as most people attending the street dance competition uses a white shirt to show off various colors of paint they got by attending the festivity.
Must Read: Dinagsa Schedule of Activities
Pasalamat: 7 Top Festivals in Negros Occidental
5. Pasalamat Festival, La Carlota City
Must Read: Pasalamat Schedule of Activities
Pintaflorez: 7 Top Festivals in Negros Occidental
6. Pintaflorez, San Carlos City
Must Read: Pintaflorez Festival Schedule of Activities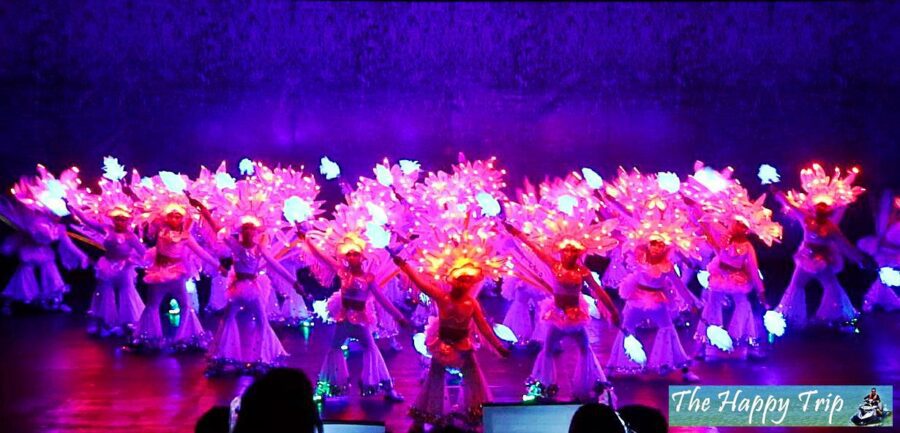 Bailes de Luces: 7 Top Festivals in Negros Occidental
7. Bailes de Luces
Click here for more: Bailes de Luces 
Pin This!!! 7 Top Festivals in Negros Occidental
Travel Guides for Negros Occidental Municipalities and Cities